KSDS Jazz88.3 FM San Diego
Station News
Heads-up

Jazz Jam

lovers:

OUR SUNDAY NIGHT JAZZ JAM RETURNS(!)

,

SUNDAY

,

MAY 3rd

AT

Old Venice Restaurant

on Canon Street in Point Loma from

6 to 9pm

!

Mark Augustin and Friends

will lead the jam and Jazz 88.3's very own,

Barry Farrar

will be your host. Oh, and Happy Hour will also be extended til 7PM. This ALL-AGES good-time is

FREE

to attend, so dust off those instruments, break-out those dancing shoes and plan to come out and jam out! There's also

FREE Parking

! We hope to see you there!



Heads-up

Jazz 88.3 Happy Hour goers

! Our monthly happy hour at the historic and newly renovated

Lafayette Hotel

takes place on the

FIRST THURSDAY OF EVERY MONTH from 5-7:30PM

! So be sure to mark your calendars, grab your dancing shoes and plan to groove to great live music

THURSDAY

,

May 7th

with the

Ian Tordella Organ Trio

!

Also, please note

: There's a

$10 cover charge

(cash only!) and you

MUST be 21+

to attend! Oh, and if you're worried about parking, don't fret--there's an overflow parking lot (

FREE!

) on the corner of Howard and Texas Streets. We'll see you

Thursday, May 7th

in the

Mississippi Ballroom

!



Jazz88.3 Program Director

Claudia Russell

is curating

"This is Jazz!"

with the Cultural Arts Office in Carlsbad. The final event on Saturday May 9th combines discussion with live jazz music spotlighting the different styles, directions and textures of America's true art form. Join Latin Grooves DJ Chris Springer

and saxophonist Justo Almario for the next session, "Celebrating the Latin Connection in Jazz." The event starts at 4pm

in the

Ruby G. Schulman auditorium

, and it's free!

Here is the information

.
Jazz Live

brings in the modern and the technology on

May 19th

with Kronomorfic, lead by saxophonist David Borgo. Personnel is as yet tentative, but count on quality and agility. Jazz 88.3 Members can reserve tickets

online

or at

619-388-3037

. Jazz Live always starts at

8pm

in the Saville Theatre at City College. All Ages Welcome!

Print Parking Permit

!



The

Blues Jam

is in full-swing and happens

every

Wednesday night at

Proud Mary's

(located at the Ramada Inn: 5500 Kearny Mesa Road, 92111) from

6:30-9:30pm

. So dust off your instruments and plan to attend!

April Blues Jam Special Guests

:

(4/29) - Catherine Denise

.

And, heads-up(!), Blues lovers! EVERY SUNDAY,

Jazz 88.3 will host a

Blues Brunch

at Proud Mary's from

1130-3pm

. It's your chance to come out, jam out, and spoil your palate while you're at it! This Sunday's (

4/26

) brunch will feature the

Sue Palmer Trio

!
Donate your used vehicle

to

Jazz 88.3

because it's the best result from a kind act. Also, you get a TAX DEDUCTION for 2014! Seriously, you can donate a vehicle almost anywhere but if you donate your car to Jazz 88.3 we will be truly and unquestionably grateful and appreciative. Isn't that reason enough?

1-888-JAZZ-CAR (1-888-529-9227)

. It's easy, quick, and you

support Jazz 88.3

. Thanks!
Another way to join

San Diego's Jazz 88.3

is with the listening stream. Recent improvements include upping the bitrate and offering more ways to listen via the web. You can

bookmark

the actual stream or use our

Jazz 88 player

. Going social you can like us on

Facebook

, follow us on

Twitter

and +1 us on

Google Plus

and there we are on

YouTube

! In response to listener calls, yes, we're still on cable;

Cox 963

and

Time Warner 965

. Upshot...you'll never miss a

Jazz Live

.
Are you proud of your favorite Jazz and Blues Station? Of course you are! We're proud of you for having such good taste in music. So, we want to show you off a little (or a lot). Please

send us

a picture(s) of your Jazz 88.3 swag in action and we'll display it for all the world to see. The more the merrier and the further from San Diego the better. The e-mail address is

showyour88@jazz88.org.
Latest Blogs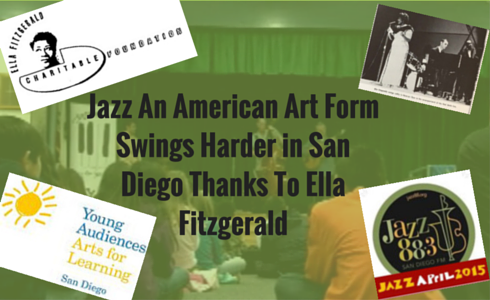 Ella Fitzgerald and San Diego have long and deep ties, from her earliest appearances here in the late 1930's at venues like the Mission Beach Ballroom and through her celebrated accompanists who lived here and still make San Diego home. And to keep the birthday celebration swinging, San Diego's Jazz 88.3 on-air hosts share their thoughts on "Lady Ella" and will be curating some of their favorites tunes featuring the "Queen of Jazz" for you all day Saturday, April 25, the 98th Birthday of "The First Lady of Jazz" and in the weeks ahead.
READ THE FULL ARTICLE for more on "Jazz An American Art Form", Ella's ties to San Diego, and thoughts and favorites from your Jazz 88.3 On-Air Hosts and Staff.
While there are lots of not-so-familiar names in the 18 new releases to the Jazz 88.3 Music Library the week of April 20, 2015, there are also some household names, including Ben Sidran (new "Blue Camus"), Harvie S ("Plucky Strum"), and Randy Brecker (along for the ride on Levon Mikaelian's debut "United Shades of Artistry").
Jazz 88.3 continues to bring you the latest releases ever week!
You can check out the debut of all the new releases each week on The New Jazz Thing with Vince Outlaw, Monday evenings 6-8pm PT and then your favorite Jazz 88.3 Hosts will be adding them to their playlists for YOU to enjoy and learn!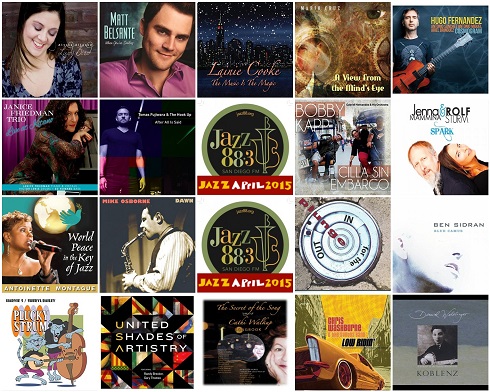 ALYSSA ALLGOOD – "LADY BIRD"
MAT BELSANTE – "WHEN YOU'RE SMILING"
LAINIE COOKE – "THE MUSIC IS THE MAGIC"
MARIO CRUZ – "A VIEW FROM THE MIND'S EYE"
HUGO FERNANDEZ – "COSMOGRAM"
JANICE FRIEDMAN TRIO – "LIVE AT KITANO"
TOMAS FUJIWARA & THE HOOK UP - "AFTER ALL IS SAID"
BOBBY KAPP – "CILLA SIN EMBARGO"
JENNA MAMMINA & ROLF STURM – "SPARK"
ANTIONETTE MONTAGUE – "WORLD PEACE IN THE KEY OF JAZZ"
MIKE OSBORNE - "DAWN"
PLUNGE – "IN FOR THE OUT"
BEN SIDRAN – "BLUE CAMUS"
HARVIE S / SHERYL BAILEY – "PLUCKY STRUM"
"UNITED SHADES OF ARTISTRY"
CATHI WALKUP – "THE SECRET OF THE SONG: LYRICS OF CATHI WALKUP"
CHRIS WASHBURNE & THE SYOTOS BAND – "LOW RIDIN'"
DANIEL WELTINGER – "KOBLENZ"
Proud Mary's Southern Bar and Grill at the Ramada Inn on Kearny Mesa and San Diego's Jazz and Blues 88.3 are bringing San Diego's Finest authentic southern breakfast eats and Live Blues Music together for Sunday's Best Blues Brunch, with the inaugural hit on Sunday, April 21, 2015 from 11am to 3pm.
Proud Mary's owner and chef Michael Jacobs will be creating all new menu items for the Brunch including such items as Grandma's Picnic Basket with Fried Chicken, Hangover Helper with Chicken Fried Steak, unique "Benedicts" with Grandma's recipe scratch Potato Pancakes, Graceland Fosters Waffles, and the Proud Mary's Bloody Brunch. The Blues music will be LIVE with Blues music by harmonica, guitar, bass, drum, singer (whew!) Jon Atkinson with his Allstar Jammers kicking it off, continuing the new sensation that is the Jazz 88.3 Blues Jam each Wednesday evening at Proud Mary's, with Jazz 88.3 On-Air Host J Otis Williams presiding over the Sunday Brunch festivities too!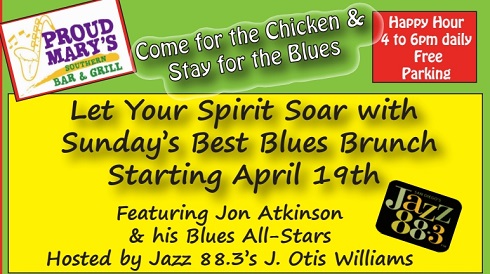 READ THE FULL ARTICLE for more brunch menu items and information on this great partnership between San Diego's #1 place for Southern cuisine with Live Blues Music and San Diego's #1 Jazz and Blues 24/7 Music Station!
Jazz April is here and Jazz 88.3 is EXCITED! With the Smithsonian's Jazz Appreciation Month celebrated here in the United States throughout April and ending with UNESCO's International Jazz Day on Thursday, April 30, 2015, There are LOTS YOU CAN DO TO CELEBRATE!
It's the perfect month to discover a new group or genre of Jazz. Check out one of the local Jazz clubs. Try your hand at writing a review of one of the new albums at Jazz 88.3 (we'll publish it!). Add the
Jazz Appreciation Month logo
or a
Jazz April Twibon
to your social media profile.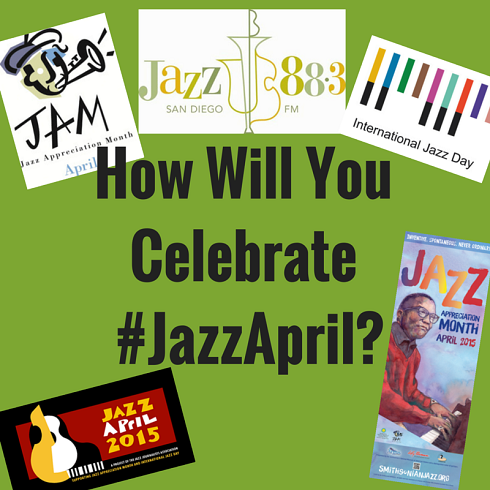 READ THE FULL ARTICLE for our handy list of ideas and links and then tell us how you plan to celebrate with a COMMENT BELOW or on our social media pages at Facebook, Twitter, Google+, LinkedIn!
Jazz 88.3 and our Jazz and Arts Partners are launching Jazz Appreciation Month in Jazz April with FREE TICKETS through the Jazz 88 Speakeasy.
SIGN-UP
for
/ LOGIN
with your FREE Jazz 88 Speakeasy account at
http://Jazz88.org/speakeasy
, then click the
Enter Giveaway
View all
Jazz 88.3 Blog
articles.
City College Student Radio
KSDS HD2
Listen Live
Pat Launer's Center Stage