November, 2014

Spread the love. Spread the Jazz! You can give a membership to Jazz 88.3 to a friend or loved one this year, and they'll get a year's worth of great Jazz concerts! Not to mention the warm and fuzzy feeling that great Jazz is being broadcast in their name.
Give a gift membership!

The 35th Annual San Diego Jazz Fest, presented by America's Finest City Dixieland Jazz Society (AFCDJS), will be swinging the Town and Country Convention Center Wednesday, November 26 through Sunday, November 30 with over 30 bands and guest artists, 8 venues, double dance floors, hours and hours of great trad, swing, boogie woogie, ragtime and more. Download the event flyer.
LISTEN to Inside Art host Dave Drexler previewing the 35th Annual San Diego Jazz Fest.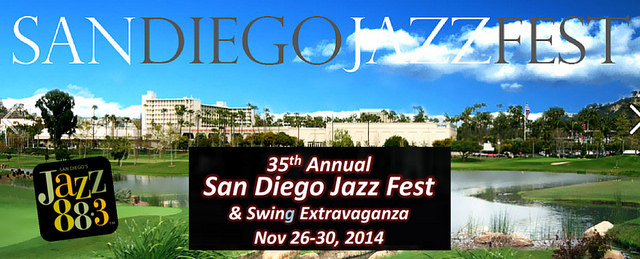 Read the entire article
for more coverage of the festival

This month is almost over and the move is getting deeper. In case you missed the memo, KSDS-FM is moving the whole thing to another building on the City College campus. The grass is green in that new building but nothing is running yet. We are broadcasting, streaming, and whatever else we can do to get the music to you, but the living breathing station is still in boxes, figuratively speaking. Meanwhile, I'm going through drills with the Index of Possibilities and calculating multiple run times for stress tested overlap with Jazz tones. And I'm really really trying not to jump to conclusions (subtle hint to the hotshots).

While it's good in any case to let your Jazz voice be heard in the JazzTimes Readers Poll 2014...and an entry for a package to the 2015 Portland Jazz Festival ain't a bad one itself, San Diego Jazz fans have at least 6 more reasons to get their vote in before the polls close at 5 p.m. EST on Monday, November 24.
Here's the first one...Read The Entire Article to see the rest...or better yet...add a comment and give your suggestion for more San Diegan's to Write In!
1.
Holly Hofmann - Best Flutist


Post

to Twitter, Facebook, Instagram, Google+ with the

San Diego Jazz

hashtag,

#SDJazz

,

and

San Diego's Jazz 88.3

will retweet, share, like, and all number of things social with your Jazzy contribution to what should be an awesome evening exhibiting what's GREAT about our San Diego Jazz Scene!

For instance...#SDJazz Twitter Search (may change to @Jazz88 Twitter Feed as we start retweeting and such)....
Read the entire article for #SDJazz embeds, and more about this great band and CD...which you can hear on San Diego's Jazz 88.3!
Embed #SDJazz Facebook Thread

Coleman Hawkins (Born: November 21, 1904 in St. Joseph, MO; Died: May 19, 1969 in New York, NY) is the Jazz 88 Artist of the Week for November 17, 2014. AllMusic.com's Scott Yanow sums it up this way: "A jazz legend and the colossus of the tenor saxophone, the first to use the instrument as a serious means of expression."





Read the entire article
for more on this Jazz pioneer...

Cellist Jeffery Zeigler, deemed by the New York Times as a cellist who performs "with unforced simplicity and beauty of tone,", is coming to San Diego in an ArtPower! at UC San Diego show on Thursday, November 20, 8pm. AND JAZZ 88 HAS TICKETS FOR YOU!
Complete the entry form below to be entered in the random drawing for 5 pairs of tickets.
Get a 2nd (and 3rd) entry by Retweeting our Twitter announcements and Sharing our Facebook Announcement
Check out some of the Jeffery's music and info from links below
| | |
| --- | --- |
| Congratulations to Hillary! She picked up two tickets to see Jeffery Zeigler! Jazz 88 will have tickets to the upcoming Michael Dessen and Charlie Arbelaez show at The Loft at UCSD...stay tuned! | |
Read the entire article
for your chance at additional entries in the ticket drawing and more on Jeffery Zeigler....

As you can imagine there are innumerable details and surprises at every turn with our current move. Rest assured that we are taking all precautions to keep the music flowing through the device of your choosing; radio, computer, mobile, etc., but we are having intermittent outages in both the on-air signal and the stream. If you're in a bind for some KSDS content remember, The Speakeasy has a lot of cool stuff that you may not have heard recently. Thanks for your patience during this time...and now back to the business at hand.




Airto and Eyedentity are coming to The Loft at UCSD, Saturday, November 15, 8PM and Jazz 88 has TICKETS FOR YOU! Just enter your name, email, and phone below for a chance drawing for one of 5 pair of tickets to the event. We will contact you if you've won tickets. UPDATE 11/12/14 8:45 AM: Drawing closed :( but..




TICKETS STILL AVAILABLE

!




Increase your chance of winning

by ReTweeting our Twitter post and Share our Facebook post! You will get one additional entry in the drawing for each RT/Share!



| | |
| --- | --- |
| WE HAVE WINNERS! Congratulations to Tomas, Tom, Steven, Oswald, and Andrew, who will be seeing Airto and Eyedentity! | |
RETWEET THIS to receive another entry in the drawing!
SHARE THIS to receive another entry in the drawing!

LIVE Monday, November 10, 2014, 6-8 PM PT @Jazz88 San Diego's Jazz 88.3 FM, Jazz88.org, and Apple/Android Apps to The New Jazz Thing @Jazz88 with Vince Outlaw
...Supported by Listener Contributors like YOU and...YOUR BUSINESS (
learn more about underwriting The New Jazz Thing!
).
Jazz 88 Speakeasy Archive (On-Demand, Click to Play): Farhad and Louis of Dornob Release "SEGAH" on The New Jazz Thing, Monday, November 10, 2014 (11:38)

Dornob: A group of musicians formed around 1985, Dornob play Persian classical, folk, and original music in untraditional ways, using jazz group concepts. Dornob's goal, in addition to friendship, crossing cultural bridges, learning the music, and having fun playing music, is to make Persian music accessible to young and non-Persian audiences. They have a new release out called "SEGAH" and are playing several events around town to support their release...and we'll get all of the scoop and hear their new music in Hour 2 of the New!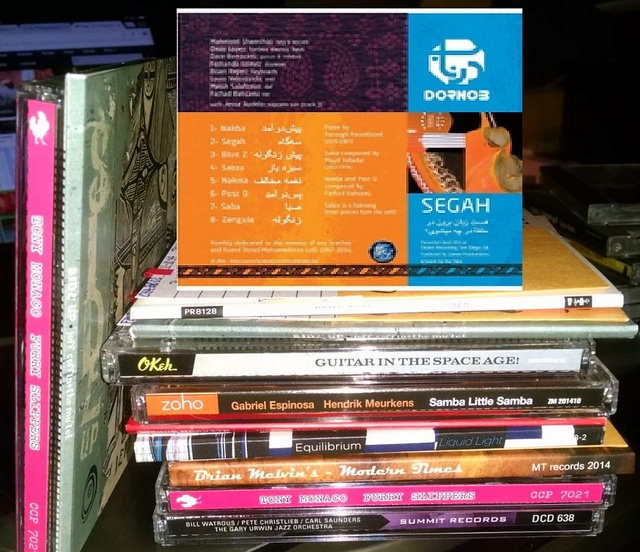 Read the entire article
for links to the full list of New Music being featured on the show, Top 10 Countdown of the Jazzweek.com Jazz Album Chart, show links, and more!
Support Jazz 88.3
while you shop at
Pat Launer's Center Stage