July, 2014

One of my first go-to albums as a young DJ was Fried Buzzard by Lou Donaldson. Idris Muhammad was there. And now there is the sorrow of his passing. He was artistic and he was solid. Beyond that, he recorded in the upper echelon of the modern cats with traditional roots. Dig him.
Lou Donaldson - Midnight Creeper
Ahmad Jamal - Big Byrd
Joe Lovano - Friendly Fire
Charles Earland - Black Talk
Pharoah Sanders - Sun In Aquarius
Thanks for listening

LIVE Monday, July 28, 2014, 6-8 PM PT @Jazz88 San Diego's Jazz 88.3 FM, Jazz88.org, and Apple/Android Apps to The New Jazz Thing @Jazz88 with Vince Outlaw
...Supported by Listener Contributors like YOU and...YOUR BUSINESS (
learn more about underwriting The New Jazz Thing!
).
On Tonight's show
, we chat with multi-award winning Jazz pianist
Fred Hersch
about his new release floating, touching on his thoughts on what he feels is one of his best releases, his work with his trio, how he composes tunes in honor of people (and dogs!) in his life, his thoughts on standards, and where he's heading in the future. We also chat with LA guitarist
Andy Waddell
about his new release "Alive" and his August 1, 2014 CD release gig at Dizzy's San Diego. The Top 10 Countdown, with video archive, all of the new adds to the Jazz 88 music library, along with reviews and quotes, previously on TNJT, what's coming up next, and more!

After the split, along with your chance to comment on the show, is the Jazz 88 Speakeasy audio archives of the entire show and interviews, Top 10 Countdown video and links, tonight's playlist, and more, so Read The Full Article already!

A bit of a shortened list of new adds to the Jazz 88 Music Library for the week of July 28, 2014, but a full spectrum from Gpysy Jazz (Cyrille Aimee) to Sax/Bass Duo work from Jazz studs Steve Wilson and Lewis Nash ("Duologue").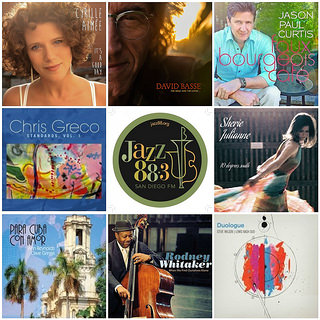 CYRILLE AIMEE – "IT'S A GOOD DAY"
DAVID BASSE – "THE HERO AND THE LOVER…"
JASON PAUL CURTIS – "FEAU BOURGEOIS CAFÉ"
CHRIS GRECO – "STANDARDS, VOL.1"
SHERIE JULIANNE – "10 DEGREES SOUTH"
ANN REYNOLDS CLAVE GRINGA – "PARA CUBA CON AMOR"
RODNEY WHITAKER – "WHEN WE FIND OURSELVES ALONE"
STEVE WILSON/LEWIS NASH DUO – "DUOLOGUE"
You can check out their debut on The New Jazz Thing @Jazz88, Monday, July 28, 2014 between 6 and 8 PM PT!
The full list, with additional annotations, links to and quotes from reviews and releases, and your chance to comment on this week's New, is after the split...

A lot of orange this time, heavy lines in the lower layers. Ideas forming thinking hearing music...
Titles as colors: Contours, Silent Observation, Undula.
Titles as structure: Hottentot, Question, Metamorphosis.
Titles as primary: Absence, Coaster, Pulse
Thanks for listening

Jazz Live TONIGHT will be a swinging good time with The Hot Club of Detroit, a four-piece jazz ensemble with the tight tricky gypsy style that makes sitting almost impossible. Listen to the Jazz Live preview to get the groove going. As always, Jazz Live is at City College's Saville Theater at 14th and C street. Valid Jazz 88.3 Members can reserve free tickets by calling 619-388-3037. If you are not a member tickets are only $10 and can be purchased at 7:30pm the night of the show. As a courtesy, your parking permit is also free of charge, but you must print it.

Barbara Morrison pay tribute to The Queen of the Blues, Dinah Washington, with her Big Band at Jazz Live San Diego, Tuesday, July 22, 2014 and we will be live blogging picture, Twitter, Facebook, and more!
There's a lot that goes on before, during, and after the show, and we'll do our best to capture it all right here on the
Jazz Live San Diego Blog
......
BE PART OF THE SHOW by posting to Twitter with the #JazzLive or #Jazz88 hashtag or on the Jazz Live San Diego Facebook page and we may give you a shoutout at the 9PM break!


After the split,
listen to
Jazz 88 Speakeasy On-demand of the Entire Concert, Jazz Live Interview, and a Preview of the August 5, 2014 Jazz Live with The Hot Club of Detroit, in addition to some of the favorite tweets from the Jazz88JazzLive Twitter feed and your chance to
provide feedback with a comment!

On tonight's show,
Antar Martin previews his Aggregation's upcoming Eric Dolphy Tribute Concert. Check out the audio and video!
We debut the 2014.07.14 Adds To The Jazz 88 Music Library with quotes from album reviews,
Antar guests on the Top 10 Countdown of the Jazzweek.com Jazz Album Chart for July 21, 2014,
and lots more!
After the split, links to Jazz 88 Speakeasy for the show and interviews, links to tonight's playlist aon the Playlist Archive, a nice shot of Antar and I, and more...here's the playlist for tonight...

An abundance of New Jazz hits the Jazz 88 Music Library the week of July 21, 2014, including new releases by Jazz stalwarts like Anthony Branker, Robin Eubanks, Larry Goldings, Paquito D'Rivera, Bill Warfield with Randy Brecker, and former TNJT Guest Walt Weiskopf and a fantastic never-before-issued live solo performance by pianist Jaki Byard. And lots of new jazz artists to explore too!
DEE ALEXANDER – "SONGS MY MOTHER LOVES"
TODD BISHOP GROUP – "TRAVELOGUE"
ANTHONY BRANKER & WORD PLAY – "THE FORWARD (TOWARDS EQUALITY) SUITE"
JAKI BYARD – "THE LATE SHOW"
ALAN CHAN JAZZ ORCHESTRA – "SHRIMP TALE"
CHICAGO JAZZ PHILHARMONIC CHAMBER ENSEMBLE – "SKETCHES OF SPAIN"
DIVA – "A SWINGIN' LIFE"
ROBIN EUBANKS + MENTAL IMAGES – "KLASSIK ROCK, VOL.1"
KALI Z FASTEAU – "PIANO RAPTURE"
OLIVER GANNON QUARTET – "EASY SAILING"
LARRY GOLDINGS – "RAMSHACKLE SERENADE"
CHRIS GREENE – "MUSIC APPRECIATION"
JOE MAGNARELLI – "LOOKIN' UP!"
BOB MAMET – "LONDON HOUSE BLUES"
LENNY MARCUS – "SECOND SET"
GAETANO PARTIPILO – "BESIDES: SONGS FROM THE SIXTIES"
PAQUITO d'RIVERA – "JAZZ MEETS THE CLASSICS"
ADA ROVATTI – "DISGUISE"
"INTRODUCING THE CRAIG SCOTT QUINTET"
BILL WARFIELD BIG BAND FEATURING RANDY BRECKER – "TRUMPET STORY"
WALT WEISKOPF – "OVERDRIVE"
You can check out their debut on The New Jazz Thing @Jazz88, Monday, July 21, 2014 between 6 and 8 PM PT!
The full list, with additional annotations, links to and quotes from reviews and releases, and your chance to comment on this week's New, is after the split...

To pay proper tribute to bassist Charlie Haden would take some hours, even days. A national holiday would work but two hours is all I have. This program focused on three things; Ornette Coleman, Keith Jarrett, and the duets.
Death and the Flower - this brews into a creative storm without leaving a mark.
First Song - (for Ruth) is often added, for his wife. Pretty tune, with Pat Metheny. A lot of people love him, Metheny.
Circus '68 '69 - from the carousel intro to the chaotic finale, a great translation of political dystopia. Music Liberation Orchestra.
Back Home Blues - a Charlie Parker line from Quartet West. Cleanse the palate, ready to continue.
Folk Medley - little solo tucked into the middle of Don Cherry's Art Deco. Proof of Haden's value.
Blues In Motian - Could have done two hours of Montreal Tapes and been happy.
Pocket Full of Cherry - Keith Jarrett plays alto sax, Dewey Redman on tenor. 60th minute at full tilt.
For a Free Portugal - with Paul Motian. see this
Out of Focus - with Don Cherry.
O.C. - with Ornette Coleman.
Blues Connotation, Folk Tale, and Ramblin. This was it. This was where I started. One of the places, anyway.
For Turiya - with Alice Coltrane on harp. A heavenly sendoff. Happy/sad right now.
Thanks for listening

Nick Hempton's Catch and Release Project
: Saxophonist Nick Hempton (
TNJT Guest 9/13/13
), is following up his 2013 "Odd Man Out" release with a project that will see the conception, development, recording, release, and marketing of a new tune every 6 weeks for the next year, with the first release on 7/15/14. We'll find out what Nick hopes to achieve with this digital-only, album-free business model experiment and what the impact to the music might be, among other things!

Support Jazz 88.3
while you shop at
Pat Launer's Center Stage