April, 2016

Some of the best of San Diego Jazz, including The Matt Smith Neu Jazz Trio, Euphoria Brass Band, and Gilbert Castellanos will be featured at Jazz On Tap, Saturday, April 30, 2016, a benefit for Water For People, a charity working to bring safe drinking water and sanitation to developing countries around the world. Matt Smith and Euphoria's Drew Miller (also host of Jazz 88.3's Second Line Parade, Saturday 7-8pm PT) dropped by Afternoon Jazz with Claudia on Friday, April 29, 2016 to chat about the event and the state of San Diego Jazz. LISTEN IN!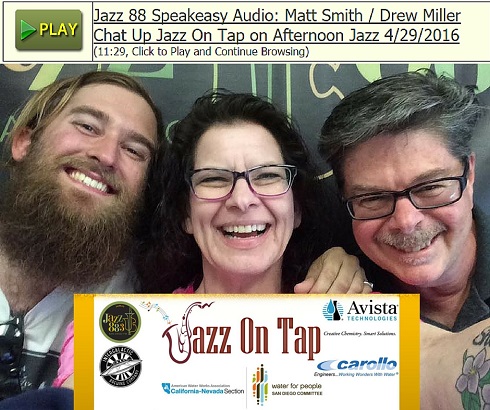 KSDS will be taking another great trip during our membership campaign. The June Membership Drive is HAPPENING NOW and it's offering a trip to Cork, Ireland to attend the Cork Jazz Festival in October. This is one of the world's major jazz festival and you can be there along side our esteemed Morning Jazz host, Gary Beck. If you would like details or even book the trip early (recommended) please call 619-388-3743. This will the trip of a lifetime and we want you to be there. Again, call 619-388-3743 for details AND if you would like to volunteer for the drive. KSDS is in need of volunteers for the morning and afternoon shifts. Please call 619-388-3743 to sign up or contact Jane (Volunteer Coordinator).

Monsieur Perine will grace the Music Box stage TONIGHT at 8PM. This show is bound to be one of a kind, as Monsieur Perinés music is a unique blend of swing, alt, pop and Colombian rhythms. There's a reason this incredible group won a Latin Grammy! For more information, or to purchase tickets, click here!

Iconic guitarist, Mike Stern will grace the MiraCosta College Concert Hall stage in Oceanside, Saturday, May 7th at 7:30PM! One of the most esteemed and talented electric guitarists of his generation, Mike Stern has distinguished himself over a four-decade career that has encompassed musical partnerships with Blood, Sweat & Tears, Billy Cobham, Miles Davis, Jaco Pastorius, the Brecker Brothers and Joe Henderson and has also released 16 solo recordings (six of which were nominated for Grammy Awards). This is surely going to be one incredible concert--don't miss it!

Mardi Gras in May--it must be
Gator By The Bay
! San Diego's Zydeco, Blues and Crawfish Festival! It's your yearly chance to discover something that you haven't seen, heard or tasted before, and what better way to kick off spring in San Diego than with a weekend jam-packed with music, dancing and delicious southern fare! Gator By The Bay features Grammy winning and legendary music: Cajun, zydeco, rockabilly, Americana and award-winning salsa and Latin bands Over 90 musical performances on seven stages in 4 days.
Festival Dates
:
Now through the
8th
at
Spanish Landing Park
(across from the airport). Click
here
to purchase tickets and more information.

The Tedeschi Trucks Band will return to the West Coast and grace the stage at Jacobs Music Center's Copley Symphony Hall, Saturday, September 3rd at 7:30PM. Pre-sale tickets are available now--simply click here! This is one concert that is sure to be amazing, and certainly one you won't want to miss!




Jazz 88.3 is proud to support "
Jazz On Tap
"--a jazz and food-inspired event benefiting
Water for People
, an international non-profit working across 9 countries to bring safe water and sanitation to 4 million people. This is your chance to enjoy great food and drinks, alongside spectacular jazz, courtesy of some of San Diego's most talented bands:
Euphoria Brass Band
,
The Matt Smith Neu Jazz Trio
, and
Gilbert Castellanos' Quartet
, all while supporting a great cause. It's all happening at the
Quartyard
, located in the heart of the East Village,
Saturday
,
April 30th
from
6PM-11PM.
This event is not only all-ages, but it's pet-friendly, too! Net proceeds will benefit
Water For People
. For more information, click
here
!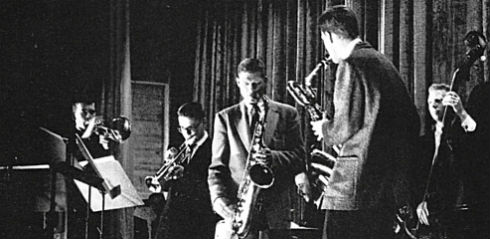 Jazz 88.3 is going to Chicago and we can take you! This weekend, KSDS is giving away a trip for two to the Chicago Blues Festival, happening June 10th-12th. It's the largest blues festival in the world (yes, you read that correctly!)--(3) days, (5) stages, and more than 500,000 blues fans from all over the globe! All you have to do to win is tune in and call in to "Every Shade of Blue" at its brand new time, THIS Sunday (April 10th) from 1-4PM for your chance to win!




Peter Sprague
will kick off his
Sanctuary Suite
,
TONIGHT
at
7PM
at the
Oceanside Museum of Art
! It's your chance to take a trek into the soundscape explorations of world music-inspired jazz! Sprague's Sanctuary Suite is a newly commissioned piece by
Camarada
that's grounded in the rich and diverse music of refugees who have found their haven in San Diego. The pure African 6/8 rhythm of Uluwatu sonically expresses the epic waves of this legendary region of Bali. Further global expedition leads the listener to a South American samba, Voltar Para Casa, which conjures up a vision of "riding in the back of a pickup truck on a Brazilian country road, heading back home through the jungle." Happily expressing Peter's music is Camarada's own jazz quintet – Peter Sprague (guitar), Fred Benedetti (guitar), Beth Ross Buckley (flute), Gunnar Biggs (bass) & Duncan Moore (percussion). Camarada now invites you to find your sanctuary in this suite of music. To purchase tickets, click
here
!
Support Jazz 88.3
while you shop at
Pat Launer's Center Stage